What Are Green Products?
Green products are sustainable products designed to minimize their environmental impacts during their whole life cycle and even after it's of no use. Green products are usually identified by having two basic goals – reducing waste and maximizing resource efficiency. They are manufactured using toxic-free ingredients and environmentally-friendly procedures and are certified by recognized organizations like Energy star, Forest Stewardship Council, etc.
Some of the characteristics of a green product are:
Grown without the use of toxic chemicals and within hygienic conditions
Can be recycled, and reused and is biodegradable in nature
Comes with eco-friendly packing
Uses the least resources
Is eco-efficient
Has reduced or zero carbon footprint
Has reduced or zero plastic footprint
---
Spring is here, and the days are getting longer and warmer. Are you prepared everything for riding your bikes out? You may be thinking about getting around by bike or adding some outdoor exercise to your routine. You may need a VTUVIA electric bike, to get together with some good friends and add some color to your life.
---
This page is full of many resources on green products and all items that fall into the niche of Green Living. Find shipping containers for off-grid or tiny homes, solar power kits, green cleaning products, green personal products, plans to build a tiny home or a home made from shipping containers, too much to list.
---
With over 9 years of experience in the field, Jackery is now a global energy leader, the number one producer of portable power, and one of the world's biggest manufacturers of outdoor solar utilities. In redefining the use of clean energy for outdoor living, we're a major front in the fight against climate change. Visit Jackery Solar for solar panels, solar batteries, solar generators, and more.
Shop Jackery for an array of portable power supply solutions, including solar generators, portable power stations & solar panels. Enjoy
Free and Fast Delivery!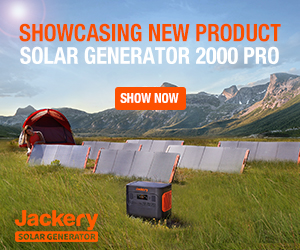 ---
Mango Power is a green energy brand focused on developing home power supply solutions, portable power devices, and related accessories and aims to bring Smart Green Energy Products into Every Home And Help Every Family Realize A Zero Carbon Emission Future.
It was founded in 2021 by a passionate team of senior product managers and talented engineers. In partnership with some of the world's top battery suppliers with more than 20 years of experience in the industry, Mango Power is bringing high-quality green energy products to consumers to realize our mission: bring smart green energy products into every home and help every family realize a zero carbon emission future.
The Mango Power Union is the world's first battery system to integrate both home and portable power solutions. Its iconic look, all-in-one detachable design, and advanced energy storage technology deliver high performance with a unique aesthetic and guaranteed safety.
The Mango Power E Power Station– MEET 99% OF YOUR PORTABLE POWER AND HOME BACKUP NEEDS.
Mango Power E Grid-Down Backup Power System Review
---
RENOGY STANDS FOR RENOVATION & RENEWABLE ENERGY
We are optimistic that humankind can achieve a sustainable future where renewables are at the core of our energy supply.
We're at a defining moment in history. Climate change and the growing global population is affecting our way of life and shaping our future. Renogy intends to be a driving force behind the push for sustainable living and energy independence. In support of this effort, our range of solar products makes it possible for individuals to minimize their carbon footprint by reducing the need for grid power.
Through our Renogy online store, we aim to provide all the components necessary for users to build off-grid solar power systems at affordable prices. We support this effort with quick response service support and readily available educational material.
We are continuously investing in our R&D process to provide industry-leading products and innovations. Join our community and create a sustainable future for all.
Renogy Solar Kits
A solar kit is a bundle of solar energy generation equipment. These kits are sold in a package that makes them easy to assemble in off-grid solar systems, helping users avoid guesswork during installation. Renogy carries a number of pre-designed power kits, each one designed to meet a customer's specific needs. Whether the customer plans to install a power system on their home, RV, cabin, boat, or shed, Renogy has exactly what they need.
See Renogy Solar Kits
---
Green Cleaning Products & Much More @ My Cleaning Products
MyCleaningProducts.com
After researching and discovering these unique ingredients from around the globe, we bring them to our manufacturing plant and begin working on them in the lab. Our team diligently tests and formulate new ideas to create some of the most unique green alternatives for green cleaning, pest control, health and beauty, and other industry solutions.
Bed Bug Sprays
Stone and Marble Care
Rust Removers
Laundry Products
Mold Remover Products
Pet Products
Pest Control Sprays
Flea Remedies
Get Rid of Ticks
Boat Care
Bathroom Cleaners
Kitchen Cleaners
Visit My Cleaning Products
---
Green Blaster Products GBMM1G All Natural Mold & Mildew Cleaner 1 Gallon Refill- *See the full line of Green Blaster Products
Green Blaster Professional Strength Mold & Mildew Cleaner harnesses the power of nature to safely and effectively remove mold, mildew, dirt, and organic debris. The all-natural, non-toxic formula uses no bleach or harsh chemicals to safely clean moldy, stained areas inside and outside your home while deodorizing. The powerful enzyme cleaning agents are safe around the house, children, and pets and are completely biodegradable. Green Blaster Professional Strength Mold & Mildew Cleaner is powerful enough to remove mold yet safe enough to use and apply without gloves or protective gear. When you need to dissolve mold and mildew without dissolving your home, shrubs, flowers, kids, and pets – make the all-natural, non-toxic, safe choice – Green Blaster Professional Strength Mold & Mildew Cleaner.
---
Aims PICOGLF10W12V120V 1000 Watt Pure Sine Inverter Charger 12 Volts FREE SHIP
Aims Power PICOGLF10W12V120V 1000 Watt Pure Sine Inverter Charger – 12 Volt
The AIMS Power 1000 Watt Pure Sine Low-Frequency Inverter with built-in battery charger. This inverter charger is perfect for small-sized industrial applications that depend upon power being available even under heavy loads. This heavy-duty inverter charger is ready to go wherever you need it to campsites tailgating parties or just at home. Use this product to power your essential household appliances during a power outage emergency. This inverter is also great in a smaller RV or boat. Features. 1000-watt low-frequency inverter. 3000-watt surge for 20 seconds 300 surge capability. Battery Priority Selector. Terminal Block. GFCI outlet. Marine Coated and Protected.
---
LochTree Green Products Lochtree is an eCommerce store that specializes in eco-friendly and zero-waste consumer products. Our goal is to help create greater access to sustainable product alternatives. We believe that Simple Choices can create a Better Planet.
---
---

---
---
The Innovative Shipped.com Team Supplies You With Better Containers, More Convenient Locations & The Best Pricing- Build a tiny or off-grid home with one!
We've got the highest quality brand new and used containers you want.
With more than 65 container depots worldwide, we blow away the competition.
Brand NEW containers starting at only $2995 or quality USED from $1995!
---
Green Initiatives is reader-supported. When you click through links on our site, we may earn an affiliate commission to help run this site.